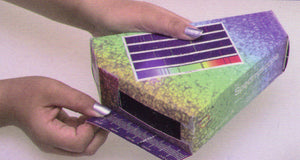 Build Your Own Spectroscope, Pack of 25
Regular price $99.00 Sale
PLEASE NOTE: These are sent out in packs of 25 spectroscopes. Free shipping in the US. Contact us for international shipping quotes.
These are the same spectroscopes previously created and distributed by the Stanford Solar Center through a grant from NASA for the Center's outreach office for the Solar Dynamics Observatory orbiting solar telescope. The grant has ended but they wanted the spectroscopes to continue to be available. Astronomers Without Borders arranged for them to be manufactured and sold here. Since there is no longer a grant for this we have to sell them to cover our costs.
These spectroscopes are now also available outside the US.
For information about the spectroscope, resources for activities utilizing the spectroscope, NASA-approved lesson plans on spectroscopy, and more see the Build Your Own Spectroscope section of the Stanford Solar Center website.