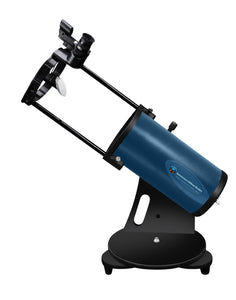 AWB OneSky Reflector Telescope (US delivery only)
Regular price $249.99 Sale
Holiday Shoppers - Please note the deadlines to receive the OneSky by Christmas. The last day to order for US deliveries is Monday, December 11th, by 5 p.m. PT time. After this day, we will make every attempt to deliver by Saturday, December 23rd, but it is not guaranteed.
You can use this gift certificate to put it inside any gift box.
The OneSky telescope is Astronomers Without Border's flagship product. Its Dobsonian mount makes it easy to maneuver and easy to set up and take down after a long night of observing. The truss-tube design allows for travel and storage and with its sturdy mount, all you need is a handy table.
Order now and you'll receive the virtual booklet "OneSky Top 10 Sky Targets" to help you start off using your new telescope.

This $5.00 book kicks off your adventures into astronomy and helps you find some of the most beautiful things that you can see with your OneSky telescope.
After you put the OneSky into the cart, simply follow this link (https://shop.astronomerswithoutborders.org/products/onesky-top-10-booklet?_pos=1&_sid=c767bb8fa&_ss=r) and put it into your cart, proceed to check out and then write "FREEBOOKLET" in the coupon code line.
The best thing about the OneSky is that with every purchase, all the proceeds go to building astronomy-based STEM education programs and sending resources around the world!  

Please note that there is no expedited shipping offered for this product.
OneSky telescope delivery time:
We send orders to Celestron, who ships the OneSky for us directly from their headquarters in California. It can take three to four business days for processing before shipment. Shipping is by UPS Ground and can take from one to five business days depending on the distance from California.
Get the answers to common questions in the FAQ:
See the FAQ for answers to common questions such as "When will I receive my order?" and "Can the OneSky be shipped in a plain box?"
NOTE: This product, which is a fundraiser for AWB worldwide programs, can only be shipped to addresses in the United States. Free shipping, sponsored by Celestron, is included in the US. Please provide a street address as this product cannot be shipped to P.O. boxes.
Have Questions? Want to hear what others have to say about their OneSky?
See this long-running thread about the AWB OneSky on the Cloudy Nights forum. You'll find lots of answers to common questions, tips, and ideas from owners and fans of the OneSky. Join to ask your own questions and share your own experiences.
You can also download the OneSky Instruction Manual
Space.com names OneSky Editor's Choice
"Every skywatcher should have access to one of these extraordinary telescopes. Without a doubt, its the best telescope value we have seen at any price." says Space.com in their review of the best inexpensive telescopes. They also tout helping astronomers worldwide through your purchase from AWB "even as you are bathing your own eyes in glorious starlight."




"BEST EVER $200 SCOPE?" That's what Sky and Telescope magazine asks about the OneSky on the cover of its February 2014 issue. Inside, a review titled "One Telescope for Everyone?" describes the OneSky as "one of those rare exceptions" that "gets all the important stuff right." Calling it "the best bang-for-buck beginners scope", it also recommends the OneSky "for seasoned observers looking for a highly portable grab-and-go-scope".

Check out what you get in the box with the Space.com video above!
Customer Julio Garcia says: Wow! I'm impressed! The telescope arrived today and I've just set it up. Even though it is the first time that I actually touch a telescope, I'm surprised how easy was the set it up and how nice I was able to see not only the Moon, but Jupiter and its moons! I want to say thank you for opening this amazing window for me and my family.
Customer John L., Groton, CT says: Have to start out saying the telescope is brilliant, it's my first telescope and I am very excited about it!
Customer Tom F. says: I continue to use  the 5" scope, and continue to be impressed.  I am after messier and ngc galaxies and have not been disappointed. The ease of use and good optics are an unbeatable combination.
Customer Dick G., Dallas, TX "What a nice little scope! Takes higher power than the supplied eps very well. Sets up easily. Big time best buy. Lunar and planetary views really surprised me with their crispness."
---
The OneSky telescope from Astronomers Without Borders – imported to the US exclusively for AWB by Celestron* (see below) – features a 130mm paraboloidal f/5 mirror. With a truss tube that collapses to 14.5 inches in seconds and a total weight of just 14 pounds, performance and convenience are combined in one portable package.
A red dot finder, 1.25-inch helical focuser, and two eyepieces, SMA 10mm and 25mm, are included
The Vixen-style dovetail plate allows the optical tube to slide down for compact storage and transport. The optical tube can also be removed from its Dobsonian base and mounted on any compatible mount.
ALL profits go to Astronomers Without Borders global astronomy programs.
Celestron Support for Astronomers Without Borders global programs
AWB's OneSky telescope is made possible through the support of Celestron, the leading designer, manufacturer and importer of high-quality optical products, in support of AWB's unique global programs. Celestron provides services including importing, warehousing, and shipping the AWB OneSky at their actual cost. AWB is thus able to to receive a generous profit of $94.99 from each sale while offering the OneSky at the very attractive retail price of $249.99.

General FAQ

Can the OneSky be shipped in a plain box?
The OneSky ships directly from Celestron so we have no control over how it is packaged. The outer shipping box says "Celestron" on it and has markings that make it pretty easy to tell what's inside. The inner box containing the OneSky has no markings identifying what's inside.

How long will it take for me to receive my OneSky?
We send orders to Celestron, who ships the OneSky for us directly from their headquarters in California. It can take two to three days for processing before shipment. Shipping is by UPS Ground and can take from one to five business days depending on the distance from California.

Can I pay extra for expedited shipping to get my OneSky sooner?
Celestron, the world's largest telescope manufacturer, is not a retailer with the usual shipping options. Celestron ships the OneSky for us as part of their support of our programs. There is no option for requesting or paying for expedited shipping.

How will I know when to expect delivery of my OneSky?
Soon after the order is processed by Celestron and shipped they will send us tracking information, which we will immediately send to each customer.

Why can't I buy the OneSky and have it shipped to my country?
We'd love to to ship the OneSky around the world, but a very similar model is sold by SkyWatcher in many other countries. Celestron and SkyWatcher are owned by the same parent company. If we sold the OneSky in those countries we would be competing with Celestrons sister company, and with an unfair advantage because of Celestron's support(see above).

Where can I get a OneSky in my country?
Look for a SkyWatcher dealer in your country and see if they have the Heritage 130. It's essentially the same telescope. SkyWatcher and Celestron are large supporters of AWB. By purchasing a Heritage 130 in other countries, you will continue to help them help us!

Isn't this creating borders?
We like crossing borders. But we can't eliminate them. Sales of the OneSky support our borderless programs, accessible to everyone worldwide. While we can only raise funds with the OneSky in the US, we think it's worth doing to support our programs everywhere.

Is the portion of my purchase that goes to AWB from each sale of the OneSky tax-deductible?
Donations to tax-exempt organizations like Astronomers Without Borders are tax-deductible. However, when you are receiving something in return such as when buying a product like this it's not a donation. There is no deduction in this case.

Can I observe the Sun with my OneSky?
WARNING: Observing the Sun with a telescope can be very dangerous if not done properly!
There are two steps that must be taken to insure safe solar observing.
1) In order the safely observe the Sun with the OneSky you MUST cover the entire front end of the telescope with a certified safe solar filter material. There are no commercially available solar filters that will fit the front of the OneSky because it isn't round like most telescopes are. This is due to the rods that allow the OneSky to collapse.
2) In additon to the solar filter, you MUST cover the open part of the OneSky's tube to block sunlight that might otherwise reach the primary mirror and form a focused -- and very dangerous -- high-intensity image of the Sun on the opposite side of the tube. For instructions on making a shroud for the OneSky tube, which can also help in nighttime observing, see the thread on CloudyNights.

OneSky Technical FAQ

What is the Allen bolt that comes with the OneSky in a small plastic bag?
The Allen bolt is an add-on that we requested so it's not included in the instruction manual. It threads into a hole in the rail that the telescope tube slides on and acts as a stop to keep the tube from sliding down too far when you stow it in the most compact configuration. Without it, it's possible to slide the tube down to the point it impacts the base below it, which can leave dents in the base from the primary mirror collimation screws.

The focuser has some slop in it that lets the eyepiece wobble just a little bit. Is there a remedy?
Teflon plumbing tape can be used on the threads to take up the slop in the threads. If it's used a lot, though, Teflon tape can wear out. Another option is wax. Just rubbing a lip balm stick on the threads will do the job. Grease can also be used but be careful not to let it get onto anything else. If cold weather is an issue in your area be sure to use a grease that doesn't stiffen up too much in the cold.

I am unable to align the red dot sight that came with this telescope to the point of focus of the scope, the adjustment wheels do not allow me to converge the two points. What can I do?
This is sometimes caused by the finder not being centered in its mount. Please try taking the finder out and remounting it, making sure that it's centered in the range of adjustment. Or try just loosening the finder in its mount and moving it, paying attention to having it approximately centered in the mount when it is re-tightened. If that doesn't work then try holding it so it is pointing in the direction more adjustment is needed and tighten it there. If this doesn't work, contact us at [email protected] so we can take care of the problem for you.

What tripod should I buy for my OneSky?
The OneSky has an integrated mount that's meant to sit on a table or some other support. The telescope can't be mounted on a tripod with the mount, but a tripod isn't necessary, either. You do need to have something to set it on, though. The telescope tube can be removed and placed on a different telescope but not just a tripod alone. Getting a suitable mount for doing this would be expensive and youd have a larger package to deal with. This isn't recommended unless youre doing something requiring tracking, such as astrophotography. Some people make a stool of sorts to set the OneSky on rather than using a table. There is nothing commercially available but there are plans for making one yourself on Eyes on the Sky. There is also a great deal of information of all kinds in a long-running discussion of the OneSky and its use on the astronomy forum Cloudy Nights. You can ask questions there as well.